ABOUT THE PROJECT…
DREAMSVILLE is a true musical collaboration between three accomplished artists. Cathy Segal-Garcia is a prolific recording artist, an exceptionally creative singer and a linchpin on the Los Angeles jazz scene. She's also a singer who's not afraid to take chances.
On DREAMSVILLE, her twelfth CD as a leader, she's teamed up with two of the busiest, most sought after musicians on the Southern California jazz scene: guitarist Larry Koonse and pianist Josh Nelson.
The recording is replete with rich textures of sound as Segal-Garcia's warm, dark vocals float over the lush guitar and piano accompaniment. The CD comprises a mix of standards, originals, and gems that are certainly off the beaten track, such as "Scarlatti Sonata in B Minor L33," which was written by the Italian composer Domenico Scarlatti in the 18th century, as well as two tunes penned by Segal-Garcia.
The music on DREAMSVILLE is truly a dialogue between voice, piano, and guitar. The open, airy arrangements invite us to listen in on the conversation. There is no shouting, no grandstanding. There are only Cathy Segal-Garcia, Josh Nelson, and Larry Koonse, three sensitive musicians with the performance chops and profound connection to the music that transport us to a place of great emotional depth and beauty.
| Rel Date: March 15, 2019 | Artist: Cathy Segal-Garcia | Title: Dreamsville
Label: Dash Hoffman Records Cat No: DHR 1023 |

Executive Producer / Dan Davilla
Produced and Arranged by: Cathy Segal-Garcia,
Larry Koonse, Josh Nelson

Mastered by: Ron Boustead

Vocals / Cathy Segal-Garcia
Guitar / Larry Koonse
Piano / Josh Nelson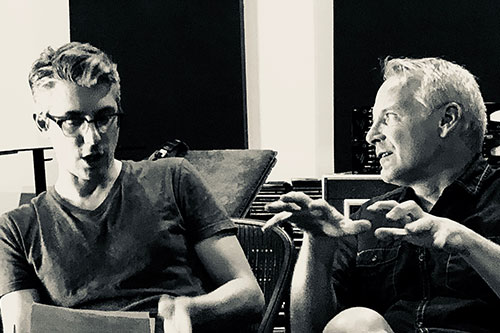 MIDWEST RECORD | FEB 26, 2019
CATHY SEGAL-GARCIA/ Dreamsville: Koonse and Nelson show up together again on yet another intimate jazz date. This time in service of a vocalist that adds her own special sauce to chestnuts, this is a dandy trio date where the vocals are front and center but the backing gets to shine as well. Solid stuff for fans of the art that really want to enjoy a still rising practitioner that keeps bringing it each new time out.
JW VIBE BY JONATHAN WIDRAN | MAR 6, 2019
A songwriter and vocal interpreter of uncommon emotional depth and intuitive lyrical insight, L.A. jazz veteran Cathy Segal-Garcia has the uncanny ability of discovering deeper, previously uncharted soul territory in a song no matter the surroundings. I described her 2019 large ensemble album The Jazz Chamber as "freewheeling" and "joyfully schizophrenic."
Her latest, true to its title Dreamsville, is completely opposite in tone and thematic intention, remarkable for its pin drop hushed sense of intimacy and masterful expressions of tender, thoughtful moods. She, guitarist Larry Koonse and pianist Josh Nelson, who paints elegant harmonic colors behind her lead vocals (and otherworldly scatting on "Scarlatti Sonata in B Minor") create expansive improvisational solos which ease effortlessly into meditative territory.
It is a testament to Segal-Garcia's heart on the sleeve songwriting prowess that "The Three of Us," her heartbreaking ode to her departed sisters, and "Beyond the Years" — a wistful meditation on finding love in later years — stacks up admirably among slightly off the beaten paths by Claire Fisher, Horace Silver and Henry Mancini.
GRADY HARP, AMAZON REVIEWER | MAR 5, 2019
5.0 out of 5 STARS | The always popular Cathy Segal-Garcia presents her talent in a trio setting on this new recording. There is a simplicity of songs. The trio presents each tune with sensitivity. Even in the Scarlatti Sonata the brilliance of Cathy's vocalizing makes this version wholly credible.
Set aside private time to spend with this elegant recording — then, pass it around! Highly recommended.
GORGEOUS ALBUM | GEORGE HARRIS
Three of LA's best and most lyrical artists get together for a sublime session. Emotive toned Cathy Segal-Garcia teams with multi-guitarist Larry Koonse and melodic pianist Josh Nelson for a collection of sublime interpretations. Koonse switches between electric and nylon strings depending on the environment, going intimate on a duet with Segal-Garcia on a classy "You Are There." Segal-Garcia is dreamy and impressionistic as Koonse and Nelson add Monet-like strokes to the title track, the delicate "The Three Of Us" and the Iberian "Canto Triste." Ivories and strings chime around her on "September In The Rain" while she sings almost subconsciously during a rich "Scarlatti Sonata In B Minor." Embers flutter throughout, particularly on a glowing "Pensativa."
DEE DEE MCNEIL | MUSICAL MEMOIRS
Cathy Segal Garcia's CD opens with "Dreamsville." The arrangement, like the singer's voice, is dreamy and warm. Cathy's vocal style draw you in, as does the emotional piano playing of Josh Nelson and the attentive accompaniment and rhythm of Larry Koonse on guitar.
Cathy's original composition, "The Three of Us" is beautifully offered, like a Sunday morning prayer. In fact, the first three songs of this production unfold, using dreams as the centrifugal force that spins the compositions together with a common purpose. Picking two of the best jazz session players and artists in Southern California to match her emotional delivery is smart. The clarity of their production gives some of her choices a world music-feel, like the Jobim tune, "Zingaro," where Cathy melts into the guitar and synthesizer accompaniment, using her voice like an instrument. Lyric-less. Melodic. Free. Spontaneous. It exemplifies her need to experiment and push the boundaries of her music art. Dave Frishberg's composition, "You Are There" is stunning and hypnotic, with Garcia gently sharing the lyrics with us, like a sweet, honest story. Cathy Segal-Garcia has her own vocal style and tone, easily recognizable and perhaps most closely compared to Joni Mitchell. She is forever challenging herself and her music. The simplicity of this production leaves the trio vulnerable, in a good way. They are each Southern California veterans of our music community and world-travelers who have spread their talents across continents. When I listen, I hear poetry. These songs pour sweetly across my early Saturday, like warm honey on my morning toast. Mostly made up of ballads, Cathy Segal-Garcia proffers us two original compositions on this album; "The Three of Us" and "Rewind the Years." Each is sentimental and left open, like a diary page we are meant to read.
BEBOP SPOKEN HERE BY ANN ALEX | MARCH 11, 2019
This was mostly an enjoyable listening experience, with a dreamy feel as suggested by the title... I especially liked the opening track, Henry Mancini's Dreamsville, lots of space for an instrumental duet, and the voice playing with the word 'dreamsville' up to the fade-out ending. The Three of Us is a heartfelt original song about the fact that the singer's twin sisters had both died. The three of them used to sing in a trio.
September in the Rain is a superb arrangement, rain and falling leaves portrayed in music and tapping on wood, then leaves chasing around, and the voice does pleasing variations of the tune. Pensativa is normally a bossa, but here it is done as an interesting jazz waltz. Beyond the Years is a haunting original song about finding love after many years and the CD concludes with Sometime Ago/Children's Song, with wordless vocals and hints of free jazz.
Contemporary Fusion Reviews by Dick Metcalf | MARCH 19, 2019
Exquisite jazz vocal wizardry Cathy Segal-Garcia – DREAMSVILLE: My most recent review of Cathy's exquisite jazz vocal wizardry was for her "The Jazz Chamber" album, which got very high marks from my ears.
On the new album, I was especially impressed with her rendition of an old Horace Silver tune, "Lonely Woman" (with Leonard Feather's lyrics)… Cathy's players, Josh Nelson on piano, and guitarist Larry Koonse, compliment her intriguing vocal in most magical fashion!
The intro to the classic "September In The Rain" features a fantastic duo between Josh & Larry, and when Cathy sings her vocal, you'll hear why I consider her a vocal master, to be sure. There's a lighthearted tone from all the players throughout the piece.
Of the eleven stunning tracks Cathy offers up for your aural enjoyment, it is (clearly) the opener, "Dreamsville", by Henry Mancini, that won my vote for personal favorite… if you've never been in "dream state" – you WILL be as you listen to Cathy performing this magic piece of music!
I give Cathy and her fellow players a MOST HIGHLY RECOMMENDED rating, with an "EQ" (energy quotient) rating of 4.99 for this stunning jazz vocal album.
Dodie Miller-Gould of Lemonwire
"Segal-Garcia unleashes a vulnerability that is difficult to ignore. From lost lovers to deceased siblings, she sings more in the tradition of Janis Ian than of the more famous jazz names, but it works. The title track and the "The Three of Us" demonstrate the emotional impact that the songs on this album can have… Dreamsville is a thoughtfully rendered recording that will provide the perfect music for those looking for a gentle, but emotionally rich soundtrack."
Paul Freeman | Pop Culture Classics!
"A delightful dozen. "Dreamsville" marks the 12th CD from Los Angeles-based jazz singer/songwriter Cathy Segal-Garcia. This one is a dream, to be sure. Segal-Garcia lends her extraordinarily expressive voice to a variety of silky tunes, backed beautifully by two outstanding musicians — guitarist Larry Koonse and pianist Josh Nelson.
She opens with the luscious "Dreamsville," a velvety Henry Mancini melody (lyrics by Ray Evans and Jay Livingston), which he wrote for Lola Albright, when she was singing and acting regularly on the "Peter Gunn" TV series.
The trio gives a tender treatment to Clare Fischer's "Pensativa." "Canto Triste" is a Brazilian beauty. Perhaps the most unusual track is one on which Segal-Garcia wordlessly communicates deep feelings on Scarlatti's Sonata in B minor L33. She also puts her own impeccable imprint on the standard "September in the Rain."
Segal-Garcia brings a haunting quality to Horace Silver's "Lonely Woman."
Two of the most unforgettable numbers are Segal-Garcia originals. Familial love and loss is sensitively explored in "The Three of Us." "Beyond the Years" is equally touching, with its own special sense of optimism.
Every track here is a treasure. Turn down the lights, close your eyes and let Segal-Garcia's lovely vocals carry you away."